With the arrival of Baby Ninja in the rear view mirror, Girl Ninja and I are starting to receive a hefty amount of mail from my insurance company. All the hospital visits, the labor and delivery, the lactation consultations, the pediatric appointments, and medications; are looking for their cut of pie. Every time I check the mail a little part of me dies inside.
I think to myself, "Ah crap, how much is Baby Ninja gonna cost us."
The answer…
Ten dollars. 
Yup, just ten George Washington's is all it took to bring Baby Ninja in to this world.
Your income is more than just your income.
While I may never earn a six figure salary in my government job, sometimes I have to remind myself that my total compensation package is MORE than just the salary I receive.
Like having access to great health insurance. While many of my friends have had to shell out thousands of dollars in medical costs for their labor and delivery, Girl Ninja and I have been able to rest easy the last nine months knowing that $10 was all we would have to pay.
Why $10 you ask?
Well, when Girl Ninja found out she was pregnant back in October she scheduled a maternity appointment with her OB/GYN. That first appointment had a $10 co-pay. Every other appointment since then has been 100% covered by my health insurance. No copays or out-of-pockets for anything.
Do you know how awesome it was to see a $4,000 medical bill indicate my financial obligation was $0.00?!
It felt like this..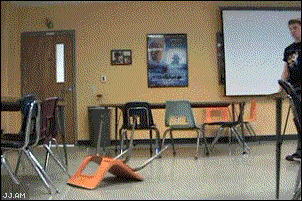 Today I'm not only thankful for having a sweet job, but benefits that rock my world. 
Do you have any sweet work benefits? I know the tech industry is infamous for crazy perks.
Oh and here are a few more shots of Baby Ninja now that he doesn't look quite so weird…
Turn your audio up 😉