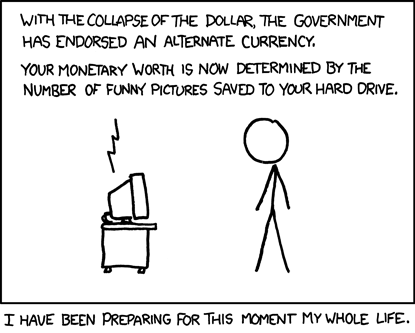 Let's have a little fun today shall we? Have you ever thought about money? I'm not talking about things like saving, paying doubt debt, investing, etc. No, I'm talking about tangible money. I personally am fascinated by it.
Think about it.  A $100 bill is worth ten times more than a $10 bill. Why? Simply because someone decided to print the number 100 on one piece of paper, and number 10 on the other. Money has virtually no intrinsic value. It's only purpose is to serve as a medium for the exchanging of goods. (side note: did you know a penny costs 1.67 cents to make? how crazy is that!)
In fact money is so worthless that it's quickly becoming an endangered species. If you're like me then you get paid via direct deposit. Every two weeks my bank account increases as my employer transfers invisible cash in to my bank account. I can then head to Target and buy a plunger (you know for plunging things) with my debit card. Nowhere in that process did I see a single dollar. It's this crazy magical accounting system that just kind of is.
So since we can all agree money is pretty much worthless, I figured we could get a little creative today and create some hypothetical currencies. I personally like the burrito factor. If you aren't familiar with it, here's a little rundown from a previous post…
I can get a California burrito for $5 at the local taco stand. Not only is that sucker scrumtrulescent, but it also fills me up. Now, whenever I go out to eat and look at the menu, I run the burrito factor through my mental calculator. It looks a little something like this… "Okay, this salad is gonna cost me $12.50, which is the same price as 2.5 California burritos. Plus the salad is probably only going to fill me up 50%. So that means this salad is gonna cost the equivalent of 5 California burritos to get full. Death to salad!"
So reader, what's your currency?